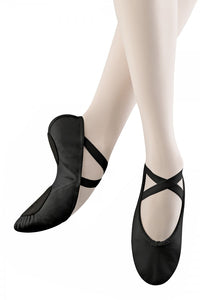 S0203: The original Bloch split sole ballet shoe combines a leather upper with a soft and flexible canvas arch insert which won't stretch out of shape. It features an elastic drawstring, cotton lining and suede leather sock lining.
Construction: Leather
Sole: Split sole
Sizing Information: Usually fits about 1 size down from street shoe
Available in Pink only from children's size 10 to 1.5.
Available in Pink in E width only from adult size 2 to 10.5.