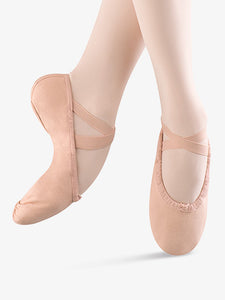 S0277: Latest split sole canvas ballet flat.

Features:
Unique construction method further reducing underfoot lumps.
New last and upper which takes the Bloch fit to the next level.
Thick and soft square canvas which moulds to the foot
Heel seam cushion for the perfect aesthetic line of the foot. 

Sizes

S0277G (girls): 10 – 1.5     Widths: A, B, C, D   Colors: Pink
S0277L (ladies): 2 – 8.5     Widths: A, B, C, D   Colors: Pink, Black, Flesh (Tan)
S0277M (men): 4.5 - 11     Widths: B, C, D        Colors: White, Black, Flesh Ttan)

Construction: Split sole canvas
Sizing Information: Start about 1-2 sizes down from street shoe size.